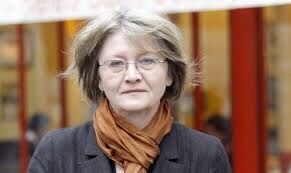 Eva Gabrielsson is an architect and was the partner of Stieg Larsson.
Reportedly, the two never married because, under Swedish law, couples entering into marriage are required to make their addresses (at the time) publicly available; marrying would have been a security risk.[13] Owing to his reporting on extremist groups and the death threats he had received, the couple had sought and been granted masking of their addresses, personal data and identity numbers from public records, to make it harder for others to trace them; this kind of "identity cover" was integral to his work as a journalist and would have been difficult to bypass if the two had married or become registered partners.
She reportedly found his will, has no legal right to the inheritance, sparking controversy between her and his father and brother. She has written a book entitled "Stieg & Moi" with Marie Francois Colombani wich comes out Jan 19, 2011. The Swedish newspaper Aftonbladet has read a rawcopy of the book and can reveal several interesting scoops.
The Fourth Book
[
]
Eva says in the book that she could finish the fourth manuscript but is, as of this moment unable to due to the legal dispute between her and Stieg Larsson's father and brother. The Swedish title of the fourth book is also told, and is said to be "Guds hämd" (english translation: God's revenge).
Many wonder if Eva could finish the fourth book, as she was deeply involved in the writing while Stieg was still alive. A fact complicating the matter is that Eva has the laptop with the partly finished script for the fourth book in the Millenium series. And she will not publish the script unless she is given the full rights to manage the novels in the Millenium series, the novels which she and Stieg worked with together. However, Stieg's father and brother has not been willing to meet this amend, and this has resulted in a stalemate which has lasted the five years since Stieg's death.
The most recent event took place when Stieg's father and brother in an interview with a newspaper offered Eva a final settlement of € 2 million. She rejected the offer, saying that it is not the money she is after, but the legal rights to administrate the literary property of Stieg.
Larsson's story was featured on the October 10, 2010 segment of CBS News Sunday Morning. In this segment Larsson's family claims the fourth and as yet unpublished book is actually the fifth book.
External References
[
]