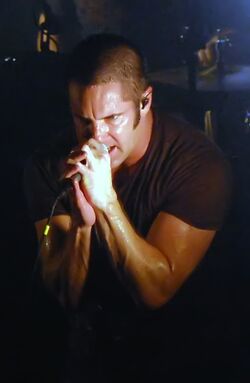 Michael Trent Reznor (born May 17, 1965) is an American singer, songwriter, composer, and record producer, and most notably founder of the industrial rock band Nine Inch Nails. Reznor is also a member of How to Destroy Angels, and has previously been associated with the bands Option 30, Exotic Birds, and Tapeworm, among others.
Reznor notes his Western Pennsylvania childhood as an early influence, where he began creating music early in his life. Initially involved with a number of mid-80s synthesizer-based bands, Reznor was hired at Right Track Studios in Cleveland, Ohio, and with the equipment he had access to there he began creating his own music during the studio's closing hours, under the now famous moniker of Nine Inch Nails. Reznor's first Nine Inch Nails release was Pretty Hate Machine (1989), which turned out to be wildly successful from both a commercial and critical standpoint. Seven more major studio releases have followed under the Nine Inch Nails name, featuring Reznor and various other contributors. Reznor himself has contributed to numerous other artists' albums, including Marilyn Manson and Saul Williams.
In 1997, Time magazine featured Reznor in its list of the year's most influential people, and he was described by Spin magazine as "the most vital artist in music."
In a 2010 collaboration with Atticus Ross, Reznor composed the score for The Social Network, a theatrical film loosely depicting the founding of Facebook. Together, the duo won the 2010 Golden Globe for Best Original Score and the Academy Award for Best Original Score for their collaboration. Recently, Reznor and Ross united again to compose the score for the American film adaptation of the novel The Girl with the Dragon Tattoo, set for release December 27, 2011. Reznor's own independent record label The Null Corporation released both soundtrack albums.
Soundtracks
[
]
thumb|350px|right|Trent Reznor and Karen O - Immigrant Song (Led Zeppelin cover)
Track Listing
[
]
Immigrant Song
She Reminds Me Of You
People Lie All The Time
Pinned And Mounted
Perihelion
What If We Could?
With The Flies
Hidden In Snow
A Thousand Details
One Particular Moment
I Can't Take It Anymore
How Brittle The Bones
Please Take Your Hand Away
Cut Into Pieces
The Splinter
An Itch
Hypomania
Under The Midnight Sun
Aphelion
You're Here
The Same As The Others
A Pause For Reflection
While Waiting
The Seconds Drag
Later Into The Night
Parallel Timeline With Alternate Outcome
Another Way Of Caring
A Viable Construct
Revealed In The Thaw
Millennia
We Could Wait Forever
Oraculum
Great Bird Of Prey
The Heretics
A Pair Of Doves
Infiltrator
The Sound Of Forgetting
Of Secrets
Is Your Love Strong Enough?